Review – 3rd French-German Workshop on Discourses and Practices of Digital Sovereignty – October 2021 in Paris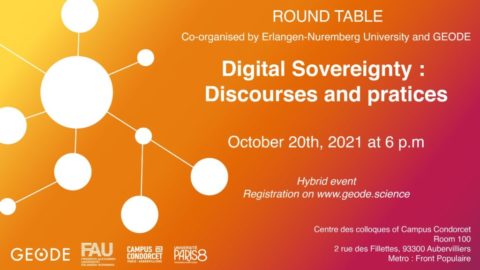 Since the 1990s, the growth of data flows and the broader digital transformation were often described as important drivers and accelerators of a global integration and the formation of a post-territorial world. However, this vision of an open and networked world quickly came up against geopolitical realities. Authoritarian states – in particular Russia and China – were the first to assert in the 2000s their desire to exercise their regal power in the digital domain. Over the past decade or so, this idea has spread throughout the world, taking very different forms from one country or region to another. The concept of "digital sovereignty" has emerged as the catalyst for this new strategic posture of States, but it gives rise to many and sometimes antagonistic discourses. Far from being a neutral and universal concept, "digital sovereignty" appears rather as a protean representation used by national and international actors to legitimize policies and practices, and to spread their values in the digital space.
After two digital workshops, the researchers of the FAU project "Discourses and Practices of Digital Sovereignty" and their French colleagues in the network "Geopolitics of the Datasphere" were finally able to meet for a "real workshop" in Paris. In two and a half days, more than 20 manuscripts were discussed for the planned "Handbook: Geopolitics of Digital Sovereignty", which is to be published by an international academic publisher in 2022. Some of the authors have already presented central aspects of the book at a public panel discussion in which, in addition to the 25 listeners in Paris, a hundred interested people, mainly from France and Germany, took part digitally.